Today we are going to talk about the ZeemGO dApp. It is a "decentralized application" running on the Polygon network that allows you to buy ZeemCoins, exchange different cryptocurrencies, generate passive income by Staking and Farming and participate in the first tokenized project in the sustainable mobility sector.
The ZeemCoin, "Zero Emission Coin", will become the standard payment in Europe for sustainable mobility.
We launched ZeemCoin and dApp 1 month ago, and the protocol has already delivered $360K in rewards to the community!
If we access the dApp, you can see our home page where you can connect your "Wallet", see some "Statistics" and see the APR (Annual Percentage Rate) that people are generating as passive income.
Some highlights:
Staking: Today generates 75.05% of annual passive income on ZeemCoins.
Farming: Today generates 291.85% of annual passive income on ZeemCoins. Nothing bad!
TVL: The total value locked in the dApp is $500,228.80. WOW, that's a lot, right? 😉
Price: $0.141 is the real price and you can also see the variation of last 24 hours and IDO (Initial Cover Offer).
Marketcap: This is the amount of ZeemCoins available today per Price, $406,707.43.
Below we can see the evolution of the price of ZeemCoin, the Market (Share between ZeemCoin that are in Stake, Farming or Liquid) and the evolution of the Locked Value.
The more value locked, the more value the protocol has since it is more robust.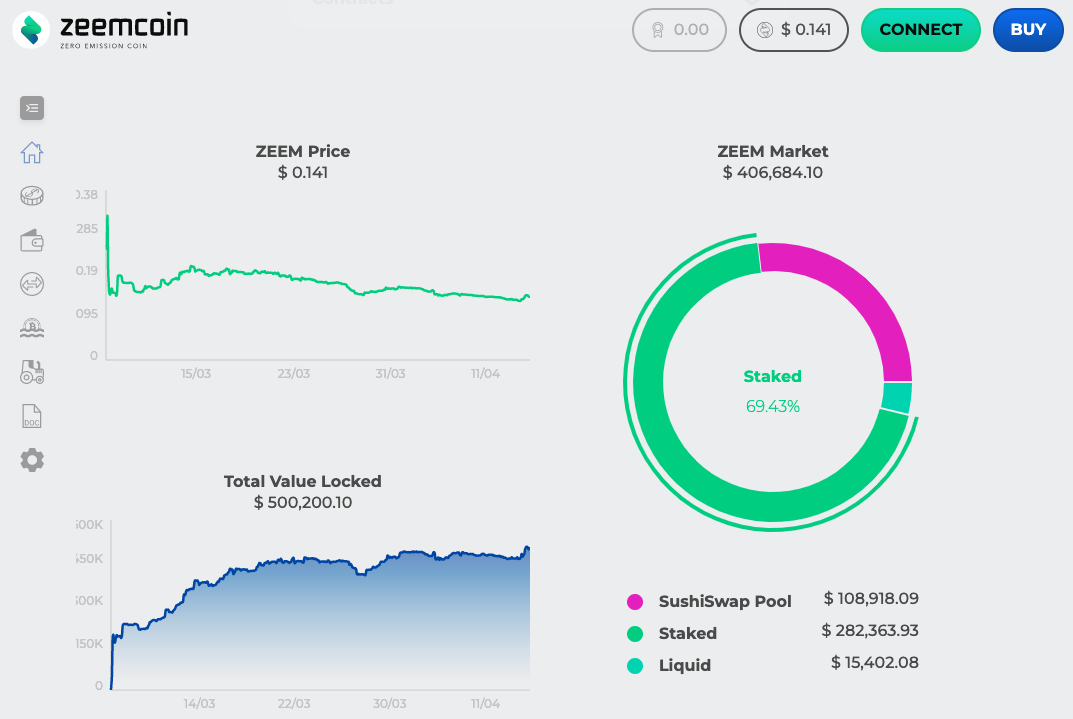 How to buy ZeemCoins
If you already have WBTC, MATIC or USDT, you can easily make a trade here.
If you want to buy ZeemCoins using €, you can use our solution built into the dApp.
Rewards
Staking
By holding tokens in a staking vault, you are locking up liquid tokens to protect the protocol from panic selling and speculation, then you get rewarded in ZeemCoins for it. Deposits can be withdrawn immediately whenever you wish, although for short-term deposits substantial burning fees apply. This mechanism is expected to prevent the participation of speculators.
Farming
By providing liquidity to the pool (ZeemCoin/$WBTC), the provider earns fees that come from transactions that are generated from "buying and selling" activity in the pool. Those are about 0.17% of the total fees generated. Additionally, providers can get a boost by staking their LP tokens (received by providing liquidity) in the farming vault. Liquidity providers are exposed to BTC, so in a potential growth in the price of ZeemCoin against BTC, they accumulate BTC, and for those who rely on BTC, being tied to the price is a big advantage.
You can review more detailed information here.
We have already awarded more than $360,000 in rewards to the community
Let's promote a future zero-emission mobility together!